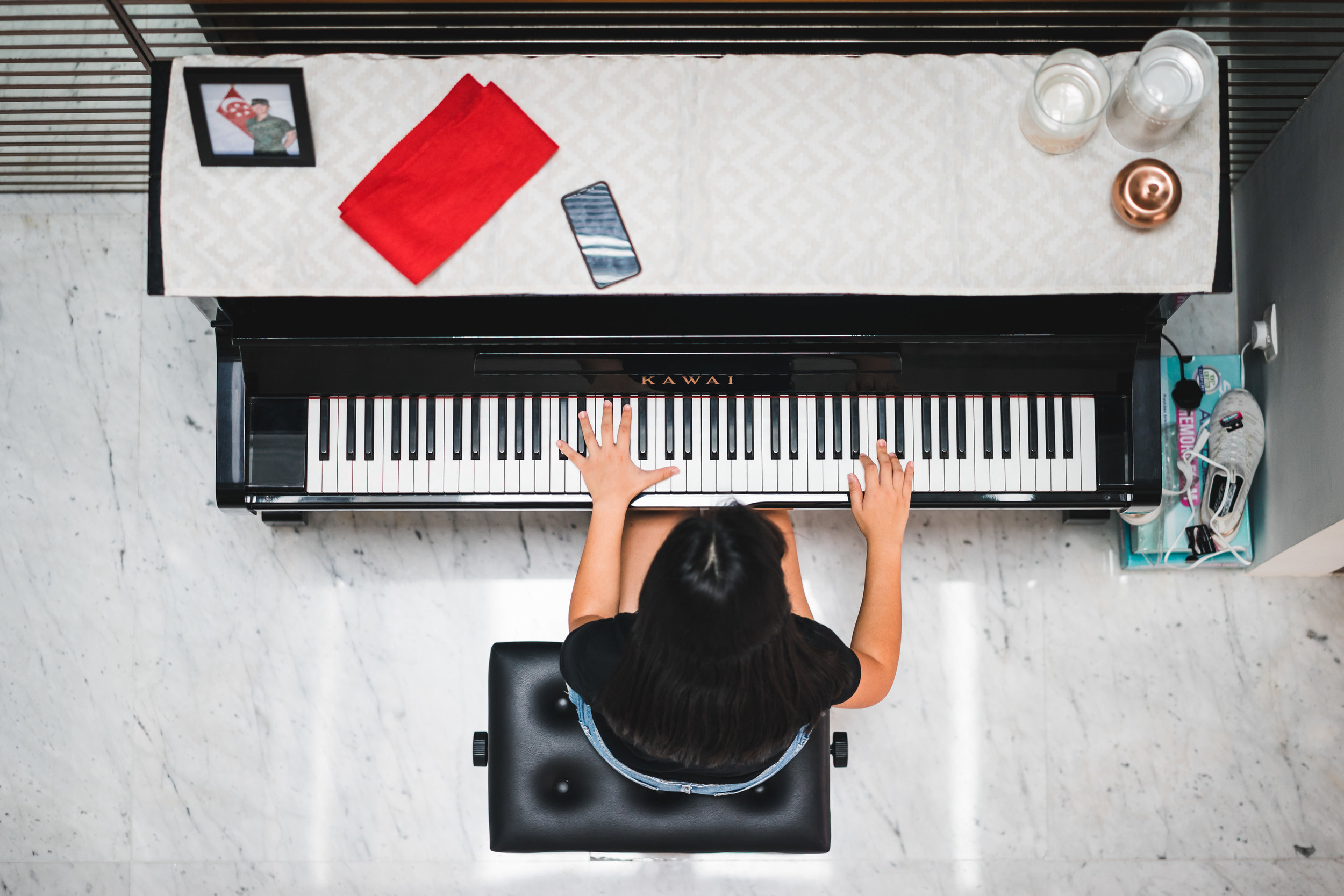 Frequently Asked Questions
Do you teach jazz to kids?
Yes. Kids love jazz! When I started working with children I used a fairly conventional approach, but have gradually evolved my teaching style to respond to kids and parents' persistent interest in jazz.
For very young children, I recommend group sessions with a school that is resourced specifically. Yamaha and Suzuki schools train their teachers in engaging young kids whilst building foundations for musicality.
See also this page
Do I have to have some experience to learn jazz?
You don't need any background in jazz. Some piano experience is an advantage.
For absolute beginners to piano, the lessons are pretty generic. The material novices need to work on is pretty much the same whatever genre and whomever the teacher. Once students have got a handle on basics, they'll be able to more fully engage with standard jazz material. However, we can work on jazz tunes and improvisations whatever level you are at.
I don't know if I have the time to practice enough to get value out of lessons.
Regardless of how many hours are put in, musicians frequently feel they haven't done enough practice. What matters is not how many hours you put in, but the quality of that time - how much you can be attuned to learning and how much you can enjoy the process.
Most students consider lessons because they have some desire to play music. Your teacher is here to support you in that. Having a lesson gives you inspiration, guidance and encouragement. You also have someone who is going to hold you to doing something about fulfilling your dream of playing music. Don't think of how much time you are going to have to find, think of how much time you'd like to give yourself to live the creative life.
Do you push students to take exams?
Only if the student is really keen on it. Generally I prefer the student to find motivation in the joy of music rather than the reward of a numerical grade. I'm a little adverse to anything that makes students feel like they might need to impress someone or that someone might judge them on their playing. I've worked with many adult pianists who were traumatised by exams and got bored with teaching paradigm soley oriented towards grades.
However, some students thrive on having a deadline to work towards and I'll support them in doing so if it seems like the best path.
Can you help with VCE or university auditions?
In these cases, we work on improving musicality so that we can successfully meet the criteria of assessment. This avoids working towards the assessment at the expense of developing musicality, or having fun playing. These kinds of assessments also provide a context for working on performance strategies.
I have had students achieve high VCE grades and also students who have successfully been admitted in to Batchelor of Music at University.
See also this page.
Do you teach music reading?
Reading music is essential for accessing a broad genre repertoire. It is possible to learn jazz without learning to read, and if a student has a good reason for this, then I'll go with it. Mostly though, I'll use notated music as part of an education.
Learning to read lead sheets/chord charts is an excellent way to work on repertoire and study jazz theory. It is a normal part of learning jazz.
Do you teach a broad range of music, or just jazz?
My passion is for jazz, in its most inclusive and broad sense. That's my speciality and what I enjoy working with most. I'm quite happy to work with students on whatever their musical interest is. I've learnt about some wonderful music from what my students bring in. I'm confident that I can help anyone learn anything at the piano. The disclaimer is that I don't have stylistic knowledge of classical or pop music, so will not be able to give genre specific feedback.
For youngsters who may not necessarily be set on jazz, or are looking for a general education, I can resource a variety of music and am happy to do so. Just be warned that I will also do what I can to inspire a love of jazz in any student who comes to me.
see also this page
I only like some kinds of jazz and not others. Is that OK?
Totally. Let's play the jazz you like. Sometimes tunes we don't like so much can teach us some useful skills, and sometimes working on a piece can cultivate an appreciation of it. But I'm more interested in students building their own aesthetic pallette and having fun.
Does playing jazz ruin your technique?
Most certainly not. Just as you can ruin your technique playing any genre at all, you can build a sound technique playing any genre at all.
When you play jazz, you play with whatever technique you have. Every time you play, you are practising technique. If you have a technique that works for classical music, don't change it. The technique one uses in classical playing is entirely transferable to jazz.
The jazz player must balance attention between creating and executing. That is; the player has to think about what to play as well as how to play it. Unlike classical music, when you are improvising, there is no time to rehearse how you'll play something.
For this reason some jazz greats have compromised on technique in order to put attention on creation. This is not a requirement, it is a choice. I encourage my students always to consider technique as integral to what they are creating.
A good technique is vital to the pianist's versatility, comfort and sustainability. Students who understand this continue to attend to their technique will continue to refine it, whatever genre they play.
What is your approach to technique?
I've found Taubman Technique to be most beneficial. The economy of movement and the logic of it make a lot of sense. It works very well with Alexander Technique. I am not qualified as a teacher of Taubman Technique and don't purport to teach it as such, it is just what I have used to develop my own technique, and that's the basis for what I teach to my students.
Alexander Technique is something I studied extensively and am accredited to teach. It deals with the poise and movement of the whole body as it is needed to play, I include this as part of a pianistic technique.
Do you teach Alexander Technique to all your students?
Unless students specifically ask for Alexander Technique lessons, I only talk about it indirectly, as it relates to the way the student is playing, the music and pupil's comfort. For those who do have the interest, simultaneously studying Alexander Technique and piano is a very well rounded education. Students undertaking this kind of training always seem to learn very fast and without compromise to comfort.
Read more about Alexander Technique.
I feel nervous about improvising, are you going to make me improvise?
Not if you don't want to. We can work on paying jazz melodies and arrangements, or transcriptions. I'll also suggest we work on dealing with nervousness. Playing with confidence is so much more fun and then you'd not miss out on the joy of improvisation.
Can you help someone with performance nerves?
I'll do what I can! Have a look at this page for more info.
I have pain when I play. Can you show me what to do?
Playing with pain is not fun. You can almost always learn a way of playing that is much healthier. If you have pain, there is very likely something in the way you play which is causing or making worse some pain condition. Please don't keep playing like this as the longer you do, the more ingrained that way of playing becomes.
As well as learning what to do to play with comfort and ease, you have to learn what to stop doing that is irritating the pain. The upshot of this is that playing becomes more fun and you can access a broader palette of sounds. Read about Alexander Technique for more info.
I have some compositions, can you help me play them?

Yes, I can help with arranging and playing skills. I also teach composition and use it to deepen understanding of this like chord progressions, melodic construction and improvisation.
Do you teach evenings or weekends?
Have a look at the booking page and see what's available. If nothing suits, let me know and I'll see if we can work out any alternatives.
Do you teach at students' houses or by Skype?
No. Sorry.
Where do you teach from?
A private studio in Glen Iris, Melbourne, Australia. View on Google maps.
How much do you charge?
See the rates page.
Can I purchase a gift certificate?
What a lovely present! Have a look at the lesson packages, or ask for a custom package. Let me know what you'd like to gift and to whom. When your recipient books, I'll send the invoice to you.
Where can I see you play?
Join the mailing list to be notified of upcoming performances. For now, you can watch YouTube or listen to recordings.